Brand name: Healofy Naturals

Pack contains: Nipple Butter Cream
Quantity: 100gm
Don't let painful & cracked nipples come in between you & your baby's bond. To make your motherhood comfortable, Healofy Naturals bring to you Nipple butter that is absolutely safe & natural. Enriched with the goodness of natural ingredients, this organic nipple butter gently prevents & reduces sore nipples for pregnant & breastfeeding moms.
NIPPLE BUTTER CREAM: BUNDLE OF BENEFITS 
Frequent feeding can make your breasts tender which if not taken care gives way to sore nipples. The natural ingredients in this organic nipple butter gently soothes your sore nipples. 
Sunflower oil & cocoa butter are highly beneficial in restoring the dry damaged skin around your nipples. 
This nipple cream hydrates your skin and slows down the loss of moisture which helps in preventing cracks & skin irritation. 
The anti-bacterial & anti-inflammatory property of coconut helps in keeping your skin free from bacterial infections.
OUR CERTIFICATIONS 
NATURAL INGREDIENTS 
Shea & Cocoa butter: Reduces loss of moisture along with relieving dry & itchy skin
Kokum & Avocado butter: Regenerates skin & soothes dry cracked skin 
Coconut oil: Heals & moisturizes & keeps away from bacterial infections
Jojoba & Almond oil: Treats dry skin, prevents nipples from becoming dry & cracked 
Soybean & Sunflower oil: Protects & strengthens the skin's moisture barrier 
Castor oil: Heals dry skin & promotes overall skin health
HEALOFY NATURALS PRODUCT JOURNEY: FROM MILES TO SMILES 
Healofy Naturals Soothing Nipple Butter goes through a rigorous testing, rejection and quality check before it's certified to be safe for your use.
WHY CHOOSE HEALOFY NIPPLE BUTTER CREAM 
We ensure that you get the best & most purest solution for your motherhood journey.
HOW TO USE 
DOCTOR SAYS 
HEALOFY EXPERT MOMS SAY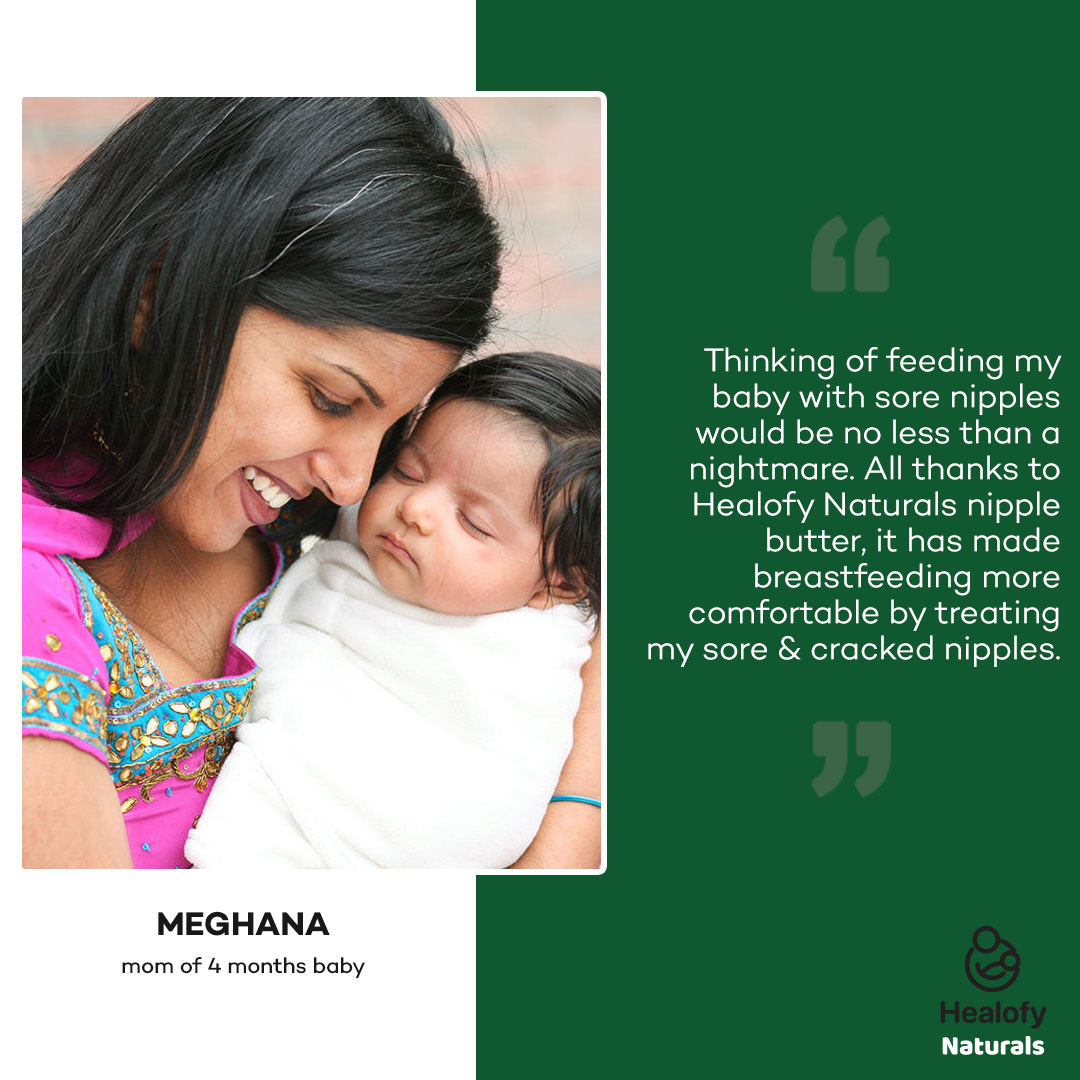 Natural ingredients may trigger existing allergic reactions, hence, a patch test is recommended. 

Store in a cool & dry place.

For external use only.
---
Watch Featured Product Video
---
Frequently Asked Questions 
Yes, this cream is absolutely safe as it contains natural ingredients. Moreover it is also doctor recommended & lab tested for safety.
You can gently wipe your nipples before feeding. 
You can use this cream to treat sore nipples even during pregnancy.
You can apply this cream after every feeding session. This will Soothe your nipples & help in healing your nipples.