Brand: Healofy

Package contains: Nibbler 

Colour:Sky Blue

Quantity: 1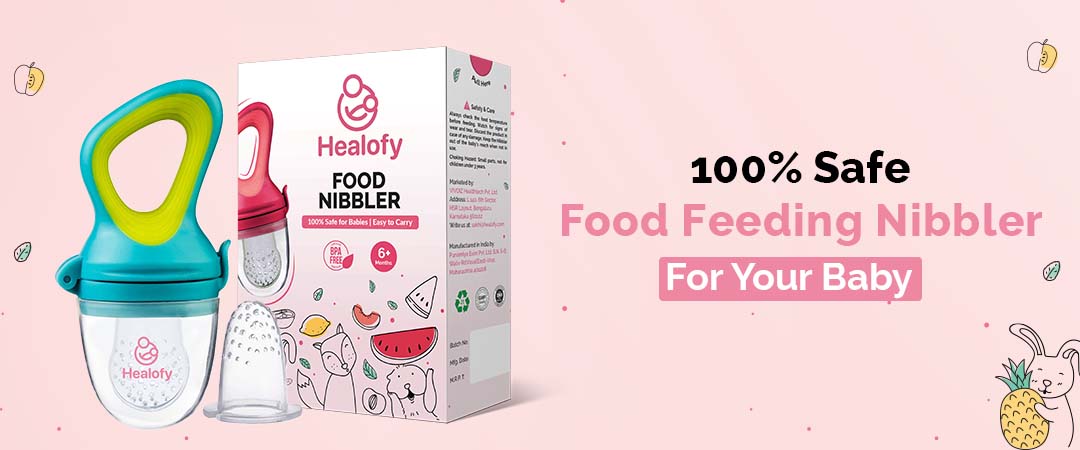 Introducing different types of food to your baby can now be fun and convenient with our easy to use food feeding nibbler. This BPA & toxin free nibbler is absolutely safe for your munchkin.  
Designed for your munchkin 
Our nibbler is light in weight which makes it easy for your munchkin to hold and self-feed. You can fill the nibbler with a variety of foods like watermelon, carrot, cooked peas, etc. and keep your baby engaged with this nibbler.
Thoughtfully designed for your growing baby's needs
Our nibbler comes with 2 different types of mesh which can be used for your baby
Your baby's safety is our topmost priority
You do not have to worry about safety when using our food feeding nibbler. The mesh has small sized holes which ensures that huge chunks of food do not enter your baby's mouth which could cause choking. Also it has a nipple cap which prevents your baby's food from coming in contact with dust particles. The safety buckle helps prevent accidental spillage of food from nipple.
Our food feeding nibbler does a lot more benefit than just introducing foods to your baby. You can give your baby this nibbler to chew on while teething so that it will provide relief from sore & painful gums. Apart from this, it also stimulates your baby's mouth muscles.
Frequently Asked Questions 
Definitely! You can use this nibbler for your growing baby as it has 2 different mesh which can be used for your growing baby.
It is absolutely safe for your baby to chew as the nipple & the mesh is made from silicone and it is toxin & BPA free.
No! The smart anti-choking design makes it absolutely safe for your baby.
I loved it!!! I'm having this for my baby. It helps in eye and hand coordination development. Giving fresh fruit juices while chewing this nibbler is really great for babies to their stomach.Buy now before the deal ends!!!
This food feeding nibbler keeps my baby busy. Now he can enjoy many fruits without much supervision.
it is too costly & product is not good
This product is too costly,.
Too costly.....on firstcry it's cost is Rs. 126 of same quality....