Cuddly cute giraffe soft toy For your baby's social-emotional development
₹519.00
Regular price
₹699.00
Tax included.
Product details
Brand name: Baby Story

Pack contains: 1 Giraffe soft toy

Size: 35 cm
Soft toys are one of the permanent and 1st companions that your child can have through their growing years. It will significantly help in your child's overall development. From comforting to developing their communication skills, a soft toy has a lot to contribute to your child's development. That's why Baby Story has come up with a sfe & extremely cute soft toy to enhance your child's overall development through play.
Unique benefits of playing with this soft toy
Sensory skills: Touching this toy helps in enhancing your baby's sensory skills.
Keeps your baby secured: The soft and velvety touch of the soft toy will calm and comfort your baby specially when you are not around and busy finishing household chores.
Sense of responsibility & compassion: When your little one plays with this toy they get attached to it. It helps in their emotional development as they take of the toy and become responsible too.
Communication skills: Your baby will engage themselves in pretend play which helps with improving their communication. You can even use these toys as props while narrating stories which enhance their language understanding.
Social Development: For your baby the soft toys are like any other human and being with them they learn how they should behave in social settings. Ways to play with the toy
Pretend play: Your child will love to engage in pretend play with this soft toy.
As Friend Forever: Your child will love having a cute little companion to talk, laugh and grow with. They will start playing on their own with this toy and carry them wherever they go.
As Sleeping Buddy: As The soft touch and feel of this soft toy will comfort your child. The toys will make your baby secured. They will love holding & sleeping with them. Skills that your baby will learn along the growing years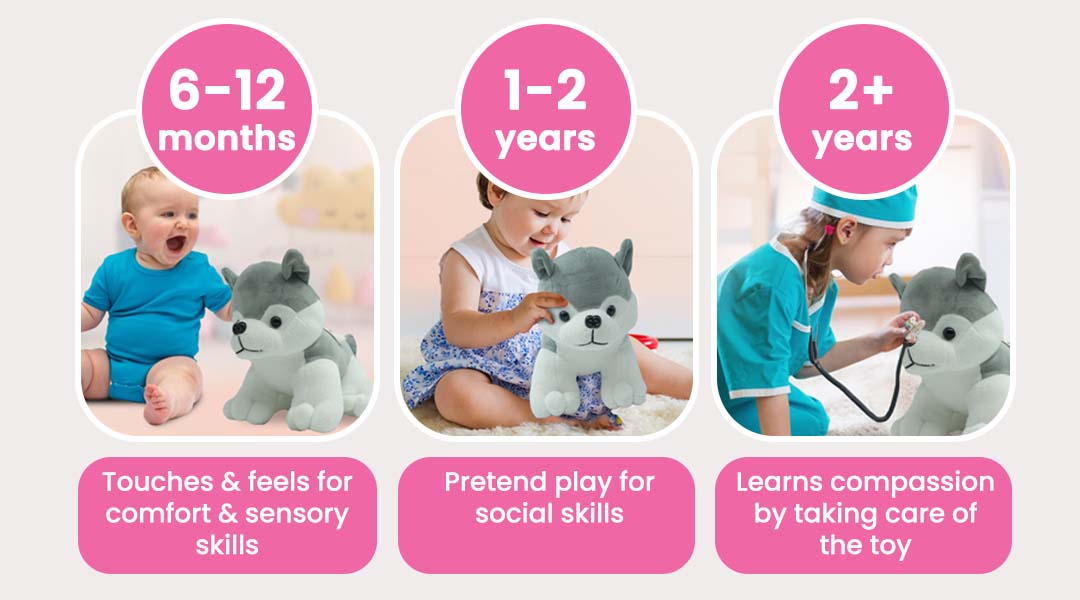 A toy with which your baby can grow and learn different skills
6-12 months: At this age your baby will love to touch and feel the texture of this toy. This helps in developing their sensory skills. Also the soft touch will help in calming and comforting them. This is the best time to narrate interesting stories using this toy to boost their imagination skills. 
1 -2 years: During this age, your baby will engage in pretend play with this soft toy which helps in enhancing their social skills. This also boosts their confidence and learns to express their emotions. 
2 year +: After 2 years your child will start understanding compassion, responsibility and well-being as they start taking care of this toy just like you take care of your child. Why choose a baby story's  soft toys?
This soft toy is thoughtfully created after taking feedback, suggestions and inputs from moms & experts. The products are also lab tested for safety and durability post creation so that there is absolutely no compromise on your baby's well-being.
Our certifications 
Doctor's say 
Healofy expert mom speaks 
Dust the soft toy regularly 
You can hand wash or machine wash 
Allow it to dry in sunlight
Frequently Asked Questions 
It is 25 cm.
The outer fabric is 100% polyester and the filling is polyester staple fiber
It is BIS & ISI certified for safety
Yes you can. Either dry clean or clean with a vacuum cleaner.